Out of the distinct possibility I will go crazy from unemployment if I don't keep busy, I have been doing a lot of crafts. Since we also have to be careful with our money, I've been trying to rethink things around the house and deconstructing some old projects in order to remake them.
I had made a three part painting to go on the wall separating our living room from our dining room, but later decided to make it a picture wall so these paintings have pretty much just been getting beaten up in our office.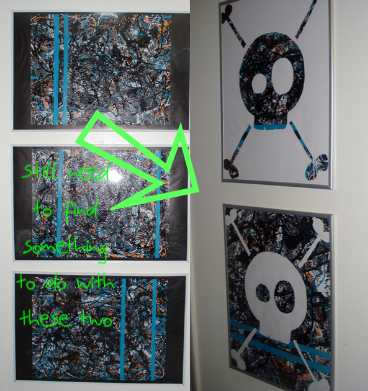 I decided that was a total waste and decided to cut the top one up. I happen to LOVE the way it turned out.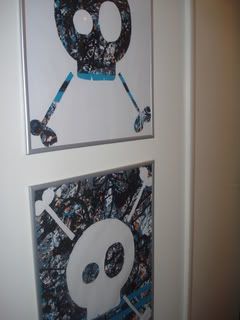 I just hand drew the skull on the back and cut it out with an exact-o-knife.
(This would work with pretty much any decorative paper/wrapping paper. If you don't want to hand draw the image you could pretty much use any stencil making technique.)
Then I framed them in some inexpensive (like $7) poster frames from walmart.
I think I might do this again but using pretty paper and our silhouettes.
*Great instructions here. Just put the paper on top and cut through both layers or use carbon paper to transfer the image.