I LOVE cookbooks and recipes to the point where I have stacks upon stacks of torn out recipes and hand written scribbles all over my house. Even though I've been trying to organize them since…well forever…I can't seem to get it done.
That being said, one of my favorite cookbooks is from Sam the Cooking Guy. He has real recipes with real ingredients that don't require a ton of work. I bookmarked almost every page in his book. I love him.
LOVE HIM!
Did my love for him get across to you? Good. :)
So last night I made his
Chicken Enchiladas
and all I say is major YUM.
They were super easy and super tasty. I served them with some beans and Spanish rice on the side.
This is the sort of dish I would make for friends (bring on the margaritas!). It would be especially nice to do during the winter when everyone's dreaming of summer.
Ingredients: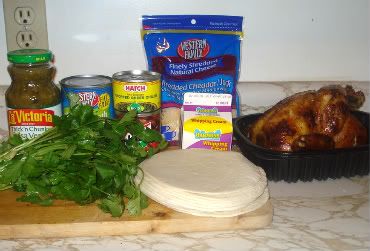 • 3 cups shredded cooked chicken - one of those deli roasted chickens is perfect for this
• 1 cup Salsa Verde (green salsa)
• 1-4 ounce can chopped green chilies
• 1-2 tablespoons chopped chipotles in sauce (more if you like it hotter)
• 8 - 8 inch flour tortillas
• 1 cup chicken broth
• 2 cups whipping cream
• 1.5 cups Monterey Jack cheese, shredded
Steps
1. Mix first 4 ingredients in bowl.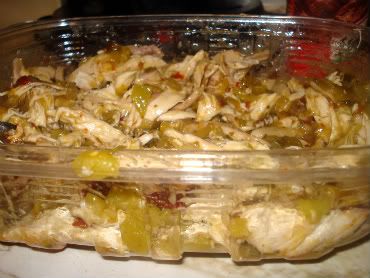 2. Pour 1/2 the whipping cream in the bottom of a 9x13-baking dish.
3. Pour chicken broth in bowl and one by one submerge each flour tortilla.
4. Place approximately 1/8 chicken mixture in each wet tortilla and roll up.
5. Place all 8 side by side in dish, sprinkle with cheese, and pour remaining whipping cream over top.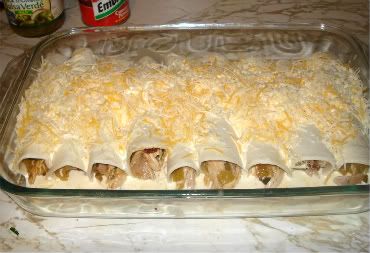 6. Bake at 350 for 30 minutes. Garnish with cilantro. Enjoy. :)
Try it out and if not, give the rest of his recipes a look.