So I finally filled all the picture frames on my photo wall. It took me forever, but I had tons of pictures from Christmas and my new printer can print bad ass quality photos so I really had no excuse.
This is the wall that separates my living room from my dining room/kitchen. I just took inexpensive Ikea frames and painted them all black, hung them up and added pictures.
I found it easier to hang them using a technique I had seen on Martha's show.
I put the frames in the order I wanted on the floor and turned them so the back (hook side) faced up. Then I used two pieces of wax paper I hade taped together (to make it wide enough) to mark where the nails would go.
I taped the wax paper on the wall and just nailed right through the paper. Once done, all I had to do was tear down the paper and transfer the frames from the floor to the wall. Easy peasy.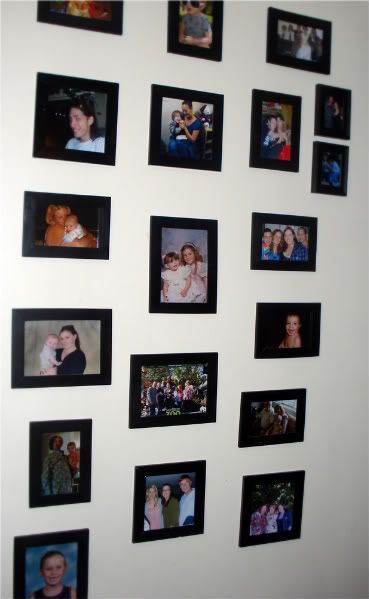 Today I put in the last photos and used some of those foam squares used in scrapbooking to keep the frames level.
Have to say I totally love it!