Even though we aren't vegetarians (I love love LOVE chicken), my family likes to eat meatless meals ever so often. In fact, I'm trying to include at least one vegetarian dinner every week for now on.
No reason really. We just like vegetables and I don't want to get stuck in cooking ruts. This helps keep me on my toes and trying new things.
One of my favorite vegetarian meals so far has to be Santa Fe Nacho Pizzas. I found the recipe in
Betty Crocker's Easy Everyday Vegetarian
cookbook.
It is super easy and super delicious. It's so good I'm going to make it the next time I have my friends over for dinner. It would be great with some Spanish rice and a salad on the side.
Santa Fe nacho PizzasIngredients:
1 can (10.8 oz. size) refrigerated dough for large flaky biscuits
3 tablespoons black bean dip
1/3 cup thick and chunky salsa
2 tablespoons canned green chilies; chopped
2 medium green onions; chopped
2 tablespoons ripe olives; sliced
1/4 cup Monterey Jack & Cheddar cheese blend; shredded
1 tablespoon fresh cilantro; chopped
Directions:
Heat oven to 350 degrees. Unroll biscuit dough. Press or roll dough into 5-inch circles on ungreased cookie sheet . Spread bean dip over dough. Top with salsa, chilies, onions and olives. Sprinkle with cheese and cilantro.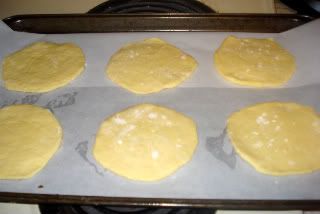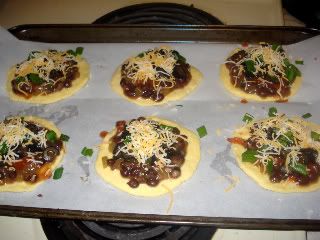 Bake 20 to 25 minutes or until crust is deep golden brown and cheese is melted.
For a little more spice, top these individual pizzas with 2 jalapeno chilies, sliced, instead of green chilies.
That's it. Super easy.
I made mine a little different because the only black bean dip I could find was almost five bucks so I decided to buy a regular can of black beans. Then I drained them really well, mashed them up a little with a fork, mixed in about half a tablespoon (do it to taste) each of cumin and chili powder, and then mixed the whole can (I think it was 4 oz) of green chilies into the can of beans. It tasted great and saved me almost four dollars.
I found it really easy to flatten the biscuits in between two pieces of wax paper (I baked the pizzas on parchment just to make sure they didn't stick as well.)
I also don't understand why the recipe calls for using only five of the biscuits when they come in eight, but I guess that's cook books for ya.
Anyhoo, give it a try. I promise you'll love it.