I saw
this
really cool print while I was browsing through sites at CB2.com and was completely inspired.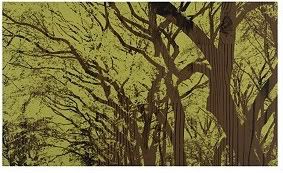 Of course, there is no way I was gonna spend $200 dollars and went about making my own.
First I purchased some wood grain contact paper for shelves at Wal-Mart (about $6 bucks for a huge roll).
Then I found a picture of trees I really liked to use as reference.
Then I hand drew my stencil onto the paper side of freezer paper (also about $6 bucks if you don't have it on hand) and cut it out using the same
technique
I talked about in a previous post.
The cutting took almost two hours, so I recommend being very patient and using a new blade. It makes all the difference.
Usually you can iron freezer paper to make the stencil stick, but I recommend using spray glue since the heat can damage the contact paper.
After applying the stencil, all I did was lay down a layer of silver spray paint.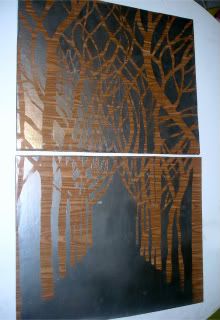 I really like the mix of industrial/natural the silver paint achieves. For this one, all I did was cover two pieces of cardboard, so the price was less than $20 bucks.
I also did another in a bright blue color.
I don't like it as much but I definitely don't hate it. I do really like how the sides are clear (I re-used an old piece of super thin plexi that is used in poster frames and then cut two holes at the top and hung the painting on hooks).
All in all, it is a lot easier then you would think and a nifty idea. If you didn't want to hand cut your own stencil, it would be just as easy to use a wall decal you really like. The contact paper has a coating of some sort so the decal will peel up just fine.